What is Chiropractic Care for Shoulder Blade Pain?
What is Chiropractic Care for Shoulder Blade Pain?
Written By Texas Spine & Sports Rehab Clinic on December 30, 2020
---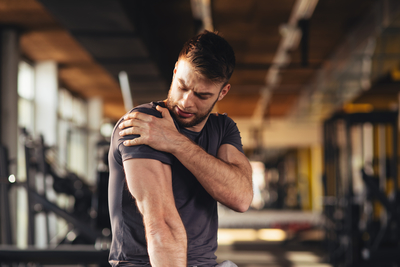 Whether you were recently in a sports injury or are feeling achy from overuse, it can be disruptive to your life and the daily activities you enjoy. Without proper treatment, shoulder pain can continue for years and disable even the simplest tasks like brushing your hair or putting on a shirt. Chiropractic care provides a natural and non-surgical treatment option that targets your pain and puts you on a path to overall wellness.
What is Shoulder Pain?
Understanding the location of your shoulder pain is crucial to receiving the right treatment. For example, if your pain is near the outside of your blade and close to your shoulder's backside, you most likely are experiencing an issue within the rotator cuff muscles. However, if the pain is focused between your spine and shoulder blade, there could be a pinched nerve in your neck causing the discomfort.
Common Types of Shoulder Pain
Depending on the type of issue, shoulder blade pain can cause a constant dull ache and lead to further complications with muscles in your back and neck. Here are the most common shoulder blade pain types:
Dislocated shoulder
Rotator cuff injury
Sprains and strains
Tendinitis
How Chiropractors Treat Shoulder Blade Pain
While many people turn to over-the-counter medications to dull shoulder blade pain, chiropractic offers a natural alternative solution to restore your range of motion. When you visit your League City chiropractor, he will conduct a physical and medical history examination to diagnose what is causing your shoulder blade pain. He will also develop a personalized treatment plan to accomplish the following benefits:
Adjust neck and back through spinal manipulations to realign misplaced vertebrae
Develop custom exercise and nutritional plans that help prevent future shoulder injuries
Conduct physical therapy in the cases of sports or car injuries
Educate patients on proper posture and ergonomics
Regular chiropractic appointments will not only decrease your shoulder blade pain but will also improve your mobility and functionality so you can achieve overall wellness.
Treating Shoulder Blade Pain in League City, TX
If you're experiencing shoulder pain in the form of stiffness, popping, or decreased movement, it's essential to contact Texas Spine & Sports Rehab. Dr. Alfredo Vasquez D.C. will focus on holistic treatment methods, like spinal manipulations and massage, to target your pain and shoulder blade complications.
You don't have to live with shoulder blade pain! Schedule a consultation with Texas Spine & Sports Rehab today.

Posted In: Chiropractic Shoulder Blade Pain