How Can Chiropractic Treatment Help Text Neck?
How Can Chiropractic Treatment Help Text Neck?
Written By Texas Spine & Sports Rehab Clinic on September 30, 2020
---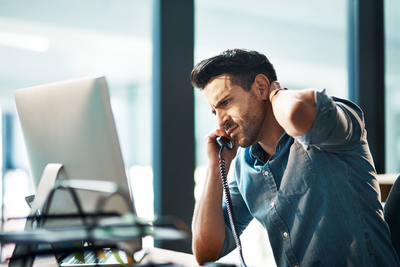 Text neck – we've all heard of it. It's often characterized by neck pain that is caused by the prolonged use of a mobile device, such as a tablet, smartphone, or even a laptop computer. A recent study showed that approximately 46.9% of individuals suffer from mild to severe text neck syndrome. With about 81% of Americans owning a smartphone as of 2018, it comes as no surprise that many of them are seeking out some form of neck pain treatment as a result of text neck syndrome.
Chiropractic Treatment Options for Text Neck
While many people have no problem using over-the-counter pain medications to treat their neck pain, that's only going to mask the symptoms – not address the cause of the pain.
That's where chiropractic can help. For those looking for a more holistic approach to their neck pain treatment, chiropractic care utilizes several methods not only to relieve your pain but also help to address the underlying issue. In the case of text neck syndrome, the pain is often caused by poor posture.
Your chiropractor will discuss your treatment options with you, and they may include any combination of the following:
Chiropractic adjustment – the manual manipulation of the spine/neck to help realign your body and improve your posture.
Physical therapy – utilizes various stretches and exercises to help strengthen the muscles in your shoulder, back, and neck to help with posture and improve alignment.
Massage therapy – to help relax any muscle tension that may be the result of frequent device use and slouching.
Tips for Preventing Text Neck
If you use mobile devices often, then you'll want to keep these tips in mind to help prevent text neck:
Take frequent breaks from your device.
Hold your device at eye level whenever possible.
Sit up straight with your shoulders back when using your device to maintain proper posture.
Look up from your device every few minutes to give your neck and eyes a break.
Neck Pain Treatment in League City, TX
Text neck is entirely preventable and talking with your chiropractor can help you do so. If you're experiencing pain because of text neck syndrome, then they can also help you find the proper neck pain treatment for your needs.
Do you suffer from text neck syndrome? Then contact us today or call our League City, TX, office at (281) 554-5550 and let the team at Texas Spine & Sports Rehab Clinic, LLC help you find relief.

Posted In: Chiropractic Neck Pain