Don't Live With Shoulder Pain: Try Chiropractic Care
Don't Live With Shoulder Pain: Try Chiropractic Care
Written By Texas Spine & Sports Rehab Clinic on January 28, 2022
---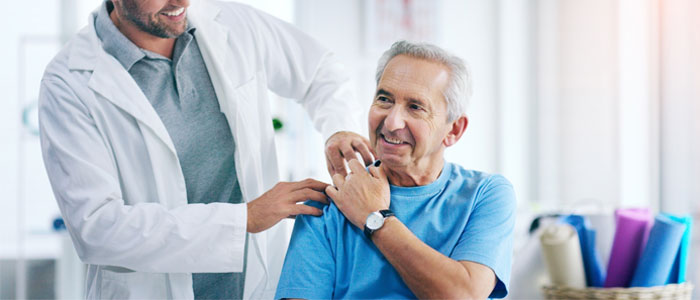 Shoulder pain is an increasingly common condition that affects millions of Americans. Whether it be from an athletic injury or a car accident, shoulder pain can quickly become debilitating if not treated early. Since your shoulders are so important for your motor function and everyday life, it is important to make sure they are as healthy and functional as can be. Texas Spine & Rehab Clinic in League City is dedicated to treating shoulder pain at the source.
Why Do I Have Shoulder Pain?
There are many causes of shoulder pain and can range from mild to severe:
Workout injuries
Auto accidents
Poor posture
Rotator cuff injury
Tendon rupture
Shoulder dislocation
Sprains or strains
Tendinitis
Arthritis
Some conditions are a result of a specific moment, such as an accident. Other causes may develop slowly over time, slow enough that some patients may not even realize that they have lost function in their shoulders. The team at Texas Spine & Rehab Clinic can diagnose the cause of your shoulder pain and develop a treatment plan that works for you.
Shoulder Pain Treatment in League City
Chiropractic care is a great place to start if you are experiencing shoulder pain. This is because chiropractors use a variety of spinal adjustments and techniques to treat issues naturally. Chiropractic care is non-addictive, meaning that it aims to treat pain without the use of prescription drugs. Chiropractic care is also non-invasive, allowing offices like ours to treat ailments without expensive surgery.
Your first visit to Texas Spine & Rehab Clinic will involve a thorough examination of your condition. We will pinpoint the location of your shoulder pain and determine its cause. With this information, we will develop a treatment plan that works for you. We may also ask you questions about your lifestyle to help determine what may be causing your shoulder pain, and how you can avoid it in the future.
Schedule an Appointment
Our chiropractic office in League City has an expert team ready to help you put an end to your shoulder pain. Schedule an appointment at (832) 647-0761.

Posted In: Chiropractic Auto Injury Treatment Shoulder Blade Pain Arthritis Shoulder Pain