Choose Chiropractic for Auto Injury Treatment
Choose Chiropractic for Auto Injury Treatment
Written By Texas Spine & Sports Rehab Clinic on September 8, 2021
---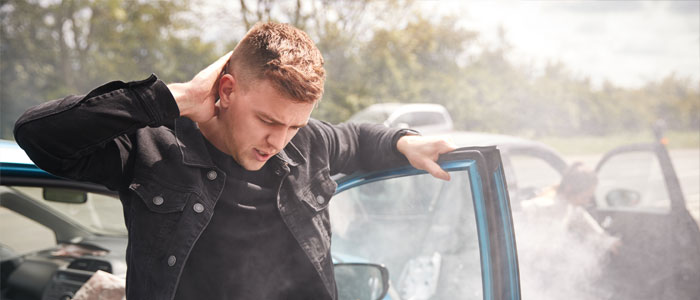 Your neck and spine are among the most important workers in the human body. However, they are also among the most susceptible to injury during an auto accident. Neck and spine injury after a collision can have severe, lasting impacts, so it is important to seek auto injury treatment as soon as possible.
Chiropractic care is a non-invasive, natural auto injury treatment method that can relieve neck pain, back pain, and other symptoms associated with common collision injuries. If you have been in an auto accident, reach out to us at Texas Spine & Sports Rehab Clinic to schedule an appointment with our in-house chiropractor, Dr. Vazquez. Dr. Vazquez has years of experience providing auto injury treatment to residents of League City, TX, and beyond.
Chiropractors are Specially Trained to Handle Auto Injuries
Some of the most common injuries associated with car accidents, like whiplash, joint pain, headaches, and bruising, are also the conditions that chiropractors are specially trained to treat. When you visit a highly qualified chiropractor, like Dr. Vazquez, to manage your auto injury treatment, you can be confident knowing your care is in the hands of someone who has spent years receiving specialized practice and training in dealing with your condition.
How Does Chiropractic Treat Auto Injuries?
Chiropractors rely on a variety of specialized techniques, such as decompression, adjustment, manipulation, and deep-tissue massage, to alleviate symptoms associated with auto accident injuries. Dr. Vazquez has treated countless cases of whiplash here in League City through these and other methods.
If you are experiencing whiplash, it's important to seek out chiropractic care as soon as possible so that it does not develop into a more serious condition. Schedule an appointment with us today.
Auto Injury Treatment at Texas Spine & Sports
Dr. Vazquez was inspired to pursue chiropractic after his personal experience with low back pain. Since finding relief through chiropractic, he has dedicated his life to helping others in League City experience the same results. It's important to see a specialist who cares about you on a personal level and wants you to reach your full potential. We offer free consultations and treatment in a private and comfortable environment.
Auto Injury Shouldn't Wait: Call Us Today!
Even a low-impact auto accident can have severe and lasting effects on your health and wellness. Visit us at Texas Spine & Sports Rehab Clinic to be seen by a practitioner who specializes in auto accident treatment and has been aiding the recovery of League City residents for years. Schedule an appointment today.

Posted In: Chiropractic Neck Pain Spinal Decompression Whiplash Treatment Auto Injury Treatment Deep Tissue Massage