Can Chiropractors Use Spinal Decompression for Herniated Discs?
Can Chiropractors Use Spinal Decompression for Herniated Discs?
Written By Texas Spine & Sports Rehab Clinic on April 16, 2021
---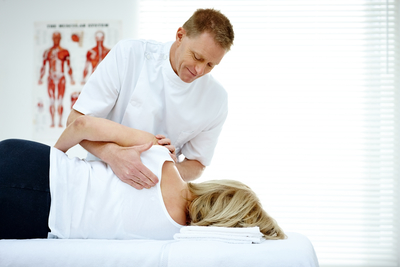 If you experience neck pain, lower back pain, or sciatica, you may be suffering from a herniated disc. Many physicians will tell a patient who is suffering from this problem that their only solution is surgery, but that is not always the case.
Before you decide to move forward with any surgical procedures, consult a chiropractor regarding spinal decompression for herniated discs. You can save yourself a lot of pain and recovery time if you go with a non-invasive procedure and holistic care.
Read on to learn more about the practice of spinal decompression and how it can help treat herniated discs.
What are Herniated Discs?
The discs that sit in between the individual vertebrae in your spine are made up of tough cartilage that has a soft substance in the middle. When a crack occurs in the outer shell of the disc, it will result in the material inside to push through the tear. This is a herniated disc. It can irritate a nearby nerve, resulting in back pain, and tingling, numbness, or weakness in your extremities.
Instead of having spinal surgery, spinal decompression will gently stretch your spine and relieve any built-up pressure on damaged discs and compressed nerves. This method will provide you with natural healing, relieving your back pain and treating your spinal disc issues.
How Spinal Decompression Therapy Works
A chiropractor will use a spinal decompression table for this treatment plan. It can also be used for cervical and lumbar decompression. Taking around 30-45 minutes, the patient lies clothed on the table and is strapped in using a harness. Each treatment plan is fully customized to each patient's needs.
By eliminating the pressure on your nerves and increasing the space between your vertebrae, it will encourage the flow of nutrients and oxygen to the discs. Your damaged discs will heal faster in a safe environment. Spinal decompression is virtually painless, and you don't have to worry about a long recovery afterward.
Let your chiropractor know if you are pregnant or have nerve damage, osteoporosis, broken vertebrae, or any previous spinal fusion. Patients can expect spinal decompression therapy to take between 15 and 30 treatments over a four-to-six-week period.
Contact Texas Spine Rehab for Spinal Decompression
You don't need to suffer daily with pain from herniated discs. Our team of professionals will work with you to develop a treatment plan. We accept most insurance plans that may cover some of the cost of spinal decompression. Finances should not stand in the way of receiving quality healthcare.
Contact us today to book an appointment.

Posted In: Chiropractic Herniated Disc Treatment