Can a Chiropractor Help After a Sports Injury?
Can a Chiropractor Help After a Sports Injury?
Written By Texas Spine & Sports Rehab Clinic on April 28, 2022
---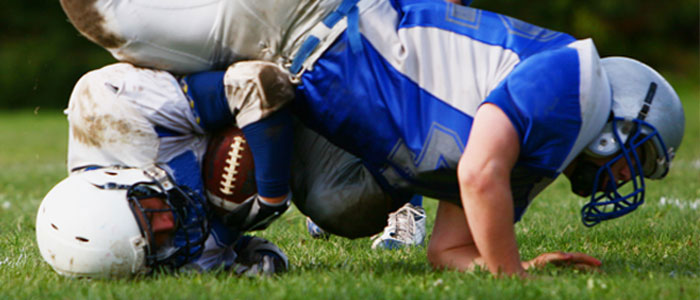 If you were tackled on the field or suffered trauma to a tendon, chances are you have been dealing with pain for some time. Sports injuries can seem innocent at first, but left untreated - or inadequately treated - they can become chronic conditions that don't improve without intervention. Our chiropractors and sports clinicians at Texas Spine & Sports Rehab Clinic helps patients in League City, TX, get back in the game after an injury.
How Do Chiropractors Treat Sports Injuries?
Chiropractors are able to treat sports injuries through a number of different techniques, including spinal adjustments. Much of the pain that results from an athletic injury can be due to misalignments in your spine. Chiropractic adjustments target these areas and gently move everything into its proper place.
Another popular form of treatment includes rehabilitation exercises to regain your range of motion. Our sports clinicians safely help patients regain full range of motion and further improve flexibility. We recommend certain exercises, stretches or techniques that match your unique injury needs.
In other cases, we use laser therapy to treat sports injuries. Laser therapy involves using a powerful light that penetrates your skin and promotes healing while reducing inflammation. Combined with other forms of chiropractic care, laser therapy can expedite the healing process.
As a sports clinic in League City, our job is to offer expertise in general health, nutrition, sports psychology and rehabilitation. Our goal is always to put our patients first and help you make the best possible decision for your overall health. That's why we offer patients in League City quality chiropractic care at an affordable price.
What Sports Injuries Can Chiropractors Treat?
Herniated or pinched discs
Tendon/joint issues
Wrist fractures and sprains
Broken bones
Knee injuries
Shin splints
Muscle strains
And more
Texas Spine & Sports Rehab Clinic specializes in helping athletes get back on their feet after an injury. Dr. Vazquez has years of experience treating athletes and physically-active individuals and is ready to help you as well.
Professional Sports Injury Treatment in League City, TX
Sports injuries can leave you feeling helpless, but they don't have to. Schedule an appointment with Texas Spine & Sports Rehab Clinic today at (832) 647-0761 and see why we are League City's choice for athletic injury treatment.

Posted In: Chiropractic Low Back Pain Herniated Disc Treatment Laser Therapy Pain Relief