3 Benefits of Visiting an Auto Accident Chiropractor
3 Benefits of Visiting an Auto Accident Chiropractor
Written By Texas Spine & Sports Rehab Clinic on March 16, 2021
---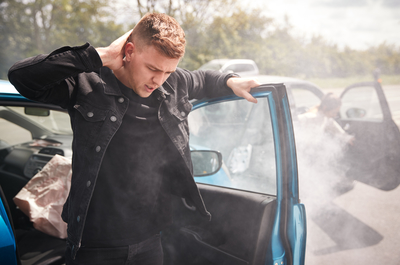 Being in a car accident can result in neck and/or back pain. Sometimes you will feel pain immediately after your collision, but occasionally it won't appear for a few days later. You may think you're in the clear if you don't have any visible cuts or abrasions, without being aware of internal damage.
Injuries from car accidents, such as whiplash, won't show up on an X-Ray or MRI since the injury is too small. A chiropractor can evaluate the pain you're experiencing and provide you with a treatment plan.
If you've recently been in a fender bender and are looking for an auto accident chiropractor, read on for all the benefits of chiropractic care.
3 Benefits of Chiropractic Care After a Car Accident
Auto accidents can cause a bulging or herniated disc, whiplash, and muscle and nerve pain. A chiropractor can help treat the pain without the use of pain medications and non-invasive procedures. Some of the benefits of chiropractic care are:
1. Reduced Muscle and Tendon Inflammation
The abrupt force your body experiences during a car accident can result in several small tears in your muscles and ligaments. A chiropractor can manipulate the areas of your body that are experiencing pain with adjustments and massage therapy. Your body will release its own anti-inflammatory chemical that will eliminate any internal swelling and pain and promote healing.
2. Whiplash Treatment
Chiropractors can use different treatments to help treat whiplash. They can employ manipulation and muscle relaxation and/or stimulation. With spinal manipulation, the chiropractor uses gentle movement to move the spine into a better position. They will also use stretches and massage to relieve the muscles experiencing tension.
3. Non-Invasive and Medication Free Treatments
Many car accident injuries can be treated by a chiropractor without a need for surgery. Visiting a chiropractor soon after your car accident can also eliminate your need for surgery in the future. The treatments they provide reduce pain from injuries, enabling patients to overcome their discomfort without relying on pain medications. Using drugs will only mask the pain you're feeling, not remedy the cause of the issue.
Make an Appointment with an Auto Accident Chiropractor Today
If you've recently been in a car accident, visiting a chiropractor can provide you with many benefits to eliminate your pain and improve your overall health. Chiropractic holistic methods will have you on the road to recovery in no time.
Contact us today to schedule an appointment.

Posted In: Chiropractic Whiplash Treatment Auto Injury Treatment